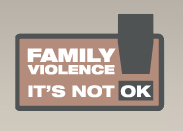 A booklet released earlier this year from the New Zealand Family Violence It's Not Ok Campaign.
The booklet aims to give people confidence to reach out to others they are worried about, as well as some suggestions about the best way to go about it.
It is based on research by the It's not OK Campaign which identified what type of helping works best.
"We found that the way help is offered is often the most important thing: not judging, offering support not advice, encouraging people rather than telling them what they should do," Campaign Manager Trish Green said.
Find the booklet here.
And other resources, including a Community Action Toolkit, Research, Evaluation and Statistics, and more here.