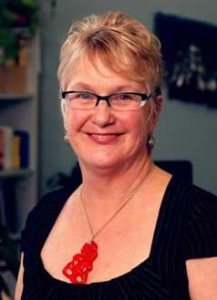 Dr Heather Gifford is Research Director of Whakauae Research for Māori Health and Development, based in Whanganui. Whakauae is dedicated to broadening the research capacity of Ngāti Hauiti and providing Kaupapa Māori research services nationally and internationally. Whakauae have had the privilege of working as action researchers with three of the Whānau Ora collectives; Taranaki, Whanganui and Heretaunga.
Heather spoke at the 8th biennial Health Services and Policy Research Conference late last year. The conference theme was, 'Doing better with less: Enhancing health system performance in difficult times'. The conference looked at changes within the health care system and how we can improve healthcare for Māori and Pasifika peoples, among other themes.
Heather's keynote address was entitled 'Whānau Ora: What does it mean in practice?' She described Whānau Ora as being the most significant change in approaches to Māori health and well-being over the past decade in New Zealand. Her presentation brought out the history of how Whānau Ora was implemented, what that looked like for different communities, whānau and individuals, and what potential developments and improvements can be made in the future.
She highlighted the journey that has been made in order for Whānau Ora to hold a place within our current society, as well as the goals and implementation of Whānau Ora-related policies within the community. Heather particularly emphasised the importance of planning alongside whānau,
[Whānau planning is] a key activity in whānau ora and describe long term aspirational goals that are driven by whānau themselves, the need for much more joined up services and the need for cross sector collaboration to make those whānau goals a reality.
Being a strengths based approach [Whānau Ora] focuses on building on the capacity and capability of whānau using Māori cultural values and norms to achieve change.
Thanks to a contribution by Nancy Tuaine, Heather was able to highlight how a Whānau Ora approach is different to other mainstream approaches as it is whānau-centred rather than individual-centred. (see Table below- ref Nancy Tuaine ).
Mainstream programme focus

Wh

ānau Ora focus

Individuals

Transaction

Advocating

Issue focus

Output

Funder driven

Whānau

Transforming

Empowering

Solution focus

Outcome

Whānau driven
Heather outline a number of challenges for implementing Whānau Ora – Heather's view is that Whānau Ora is being implemented in what is still a competitive contracting environment with multiple reporting requirements and poor recognition of the additional work required to implement Whānau Ora. An illustration from her presentation (below) shows the different relationships between whānau, providers and government agencies, and progress under Whānau Ora.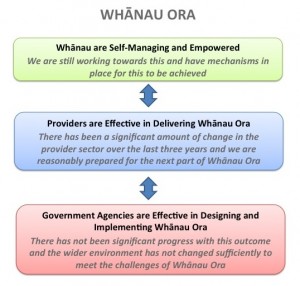 With these changes in mind, Heather concluded her presentation with suggestions for how we should move forward.
Moving Forward
1. Workforce capacity – we need to keep building the workforce required to implement Whānau Ora – this means continuing training that results in changes to practice.
2. Continued commitment by government – Whānau Ora has been facilitated by Maori politicians in a position to argue for change as they are part of the coalition government – elections next year will be critical to the ongoing success of Whānau Ora.
3. Need for structural changes that can support Whānau Ora – this is essential and requires changes to contracting and enhanced intersectoral collaboration at a government level.
4. There are still more changes being implemented under Whānau Ora for example the introduction of commissioning agencies next year – this may cause further confusion and loss of traction – changes will need to build on the work done over the last two-three years and be clearly communicated to all stakeholders.
5. Need to bed in emergent changes that have already occurred for the collectives – this will require continued local level leadership.
6. And finally we need whānau and communities who are ready to embrace the opportunities being provided under Whānau Ora.
For access to Heather's presentation slides click HERE
Contributed by Aneta Cram