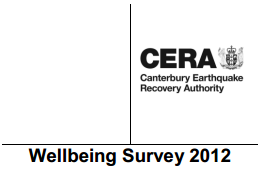 The Christchurch Earthquake Recovery Authority (CERA) Wellbeing Survey 2012
CERA and its partner agencies undertook the Wellbeing Survey to measure earthquake recovery progress across greater Christchurch. It provides timely feedback to social and other agencies as trends in community wellbeing emerge.
Some of the key findings include:
Self-reported wellbeing data identifies the prevalence and causes of stress, quality of life impacts, barriers and opportunities, impacts on social connectedness, satisfaction with the recovery and any positive impacts people are experiencing as a result of the earthquakes.
Higher proportions of Christchurch residents have experienced a strong negative impact on their everyday lives as a result of the earthquakes.
Nearly three-quarters of greater Christchurch residents rate their quality of life positively, and 7% believe it to be poor. However more than half believe that their quality of life has deteriorated since the earthquakes.
Click here to see the summary
Read the full report here.