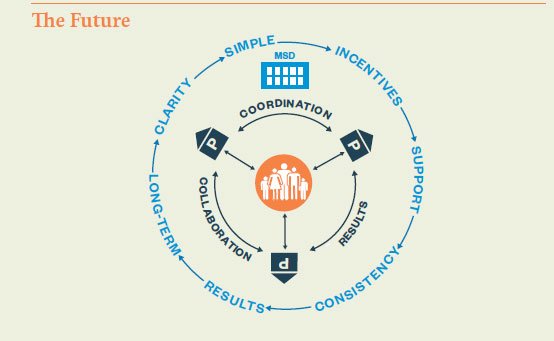 The Minister for Social Development, Hon Paula Bennett and Murray Edridge, ISO Programme Sponsor and Deputy Chief Executive Family and Community Services have just released details about the Investing in Services for Outcomes (ISO): Capability Investment Resource (CIR).
In partnership with Government the social services sector is central to achieving better outcomes for whānau, families and clients. Some providers will need assistance to deliver results. Government is providing $31.65 million that will be distributed over four years through a Capability Investment Resource fund To support a stronger, adaptable and more integrated social sector.
Applications opened on 30 January 2013 and close 1 March 2013.
Overview
There are three streams of support available recognising that capability building is a process involving a number of steps and organisations are likely to be at different stages of this process.
Stream One and Stream Two focus on facilitated organisational capability self-assessment and planning, with assistance from a Capability Mentor. As MSD anticipates most organisations will be able to complete these steps themselves, Stream Three has been developed for MSD-funded organisations that are ready to start implementing an organisational capability development plan.
Stream One: Organisational Capability Self-Assessment and Organisational Capability Development Plan
This first step enables organisations to examine and assess their organisational capability facilitated by an MSD Capability Mentor. The focus is on areas that are critical to the long-term sustainability and viability of the organisation. The capabilities are characteristic of organisations working to become stronger, more adaptable and more integrated, as well as ensuring that high quality services are delivered effectively for clients. MSD's Organisational Capability Self-Assessment Tool will be used to complete this assessment.
In the planning step, organisations work with their Capability Mentor identify and prioritise the areas where they will strengthen organisational capability and outline how they will achieve this. Organisational capability development planning includes identifying potential sources of expertise and information to help with the work of capability building, and develops a clear process to achieve this.
Stream Two: Organisational Capability Development Plan
Applicants that have recently completed their own self-assessment, equivalent to that described in the MSD Organisational Capability Self-Assessment Tool, are invited to apply directly to Stream Two. Successful applicants to Stream Two will develop an organisational capability development plan with the help of an MSD Capability Mentor.
Note: Successful applicants to both Stream One and Two will receive a grant toward the cost of their self-assessment and/or capability development planning. Both self-assessment and planning must be facilitated by a 'Capability Mentor' from the MSD Qualified Supplier List. This list will be available on the MSD website by the end of March 2013. Applications for these streams do not need to include a request for a specific amount of support.
Stream Three: Implementation of a Capability Development Plan
In this step, organisations implement their development plan. This can be undertaken either as a single project or through a staged approach focusing on one area at a time. Organisations must have already undertaken robust evidence-based organisational capability self-assessment of at least the capabilities described in the MSD Organisational Capability Self-Assessment Tool and developed an organisational capability development plan.
Successful applicants to Stream Three: Implementation of Organisational Capability Development Plan will also be paid by way of grant. Application must include a detailed costing of proposed work and grant amounts may vary.
First distribution eligibility
The first distribution of CIR is available to providers who are currently funded by MSD. Collectives or collaborations are also able to apply for assistance. Where the application is on behalf of a collective or collaboration, the organisation making the application must be funded by MSD.
This document includes detailed eligibility criteria for each funding stream, exclusions, assessment processes, timeframes and accountability reporting.
Checkout the MSD website and contact your MSD funding advisor if you need further information or assistance.