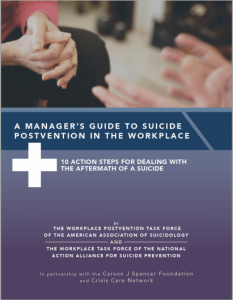 A manager's guide to suicide postvention in the workplace: 10 action steps for dealing with the aftermath of suicide
(2013). American Association of Suicidology (AAS) and the National Action Alliance for Suicide Prevention (Action Alliance), Crisis Care Network (CCN), and the Carson J Spencer Foundation
The guide provides clear steps for postvention, giving leadership a sense of how to immediately respond to the traumatic event, have a plan in the short-term for recovery, and consider long-term strategies for helping employees cope down the line.
The guide begins by defining a "postvention" as a: "psychological first aid, crisis intervention, and other support offered after a suicide to affected individuals or the workplace as a whole to alleviate possible negative effects of the event. A suicide death of an employee is only one type of suicide that could affect the workplace. The suicide death of clients, vendors, or a family member of an employee can also have a profound impact."
It then outlines 10 critical roles the manager needs to assume to set the tone for how the workplace will respond, including 10 action steps from immediate to longer term responses. The report then outlines those recommended steps in further detail.
Click here to read the report.