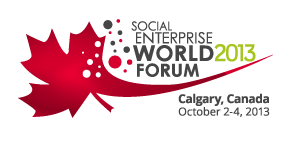 The 2013 Social Enterprise World Forum (SEWF), a worldwide initiative bringing together a diverse array of professionals, will be held in Canada on October 2-4.
Leveraging Markets and Innovations to Solve Social Problems.
Strategic initiatives will include:
An extensive communications strategy, including partnerships within the social enterprise sector and mainstream media
Pre- and post-event articles and online discussions
17 main stage speakers and more than 80 breakout session panelists
Numerous platforms and opportunities to network, celebrate success, share insights, collaborate, discuss and analyze the latest trends, and explore policy options
Topics exploring and nurturing the entire range of impact, from service delivery, to scaling, to pattern change, to the ultimate level of innovation, systemic change
Efforts to convene and facilitate dialogue across all sectors devoted to enhancing social impact, from social enterprises to policy makers, private sector leaders, social good businesses, not-for profits, philanthropists and intrapreneurs.
Event Program focused on six key areas:
Each session will be recorded and posted online so that the discussions and insights can be consulted, referred to, and used again and again by everyone dedicated to the advancement of social enterprise.
Earlybird registration closes 25 July. For more information and to register, click here.
For a well populated library of articles pertaining to social enterprise and the key areas of the programme, click here.